I've been a bit MIA lately, I know, but things have become unexpectedly busy. I hope everyone had an enjoyable Thanksgiving, as I did.
Gobble Gobble!
But now that Turkey Day is over, it's time to look forward to another great season for lovers of horror and macabre:
Creepmas
!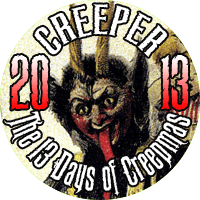 I have a few things lined up for this year. Mostly pictures, a few videos, some decorations here and there. It should be great fun.